---
"Toys are used like words by children,
and play is their language."
-Garry Landreth
---
Please see the list below of the many items that we use at the center daily to help children express their feelings through the play therapy process. While the items may seem simple, they are in fact, powerful tools children use to act out their feelings of pain, hurt, anger, frustration, triumph and joy.
Items from our Charity Wish List on Amazon
New story books for waiting room
Sandwich Ziploc bags
Colored printer paper
Play-Doh
Construction paper
Clay that doesn't air dry
Art canvas
Paper towels
Kleenex
Lysol spray
Lysol wipes
AA batteries
Snacks (individually wrapped and labeled like fruit snacks, beef jerky, etc.)
Monetary donations are welcome and are used to purchase therapeutic toys, games, snacks, etc.
Wish list donations can be dropped off (during business hours) or shipped to the CFGC office located at 804 E. Pecan Grove Rd. in Sherman, Texas. We greatly appreciate your contribution. 
---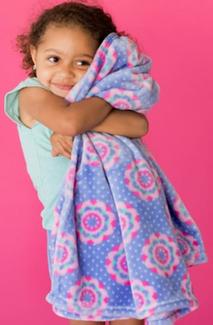 Operation Warm Fuzzy
Another wonderful opportunity to give is to make a monetary donation to the Operation Warm Fuzzy Program. This special program provides a warm, soft blanket to each new child and adolescent client. The project was founded in 2004 by a big-hearted 16-year-old teenager, Sarah Fallon (Sullivan), who wanted to give back to less fortunate children. Sarah has passed the torch to keep the program going each year to other caring members of Sisters of Service at Sherman High School.
These blankets make a huge impact on the children and adolescents that come to CFGC for services. Not only is a warm, soft blanket comforting during times of stress and uncertainty, but it serves as an important bonding tool between the children and their therapist. 
Monetary donations go toward the cost of material. You can also donate new, colorful fleece to CFGC (it takes a yard and a half to make one blanket). Click here if you wish to use your credit card to make a secure online donation.