---
A silver lining is a sign of hope or a positive aspect in an otherwise negative situation.
---
We hope 2021 finds you and yours safe, healthy, and well. We have all experienced a difficult year filled with uncertainty, grief, and unimaginable challenges. Yet, without making light of those extraordinary experiences, we have also experienced remarkable silver linings.
For CFGC, 2020 was filled with silver linings beyond measure. Silver lining #1… Your generosity during the most difficult of times. 
Your financial gifts enabled CFGC to provide over 10,000 free therapy and support sessions to 2,452 children and family members struggling to navigate overwhelm, fear, anxiety, depression, and desperate thoughts of suicide. Your support helped save thousands of lives throughout our community.
This year, as the fallout from the pandemic continues, and normal is a new world to navigate, we need your support like never before. Please join us by selecting a sponsorship level you are comfortable with. We are counting on you to continue to be our silver lining.
The 10th Annual Starfish Benefit will be a Hybrid/Virtual event on Saturday, September 18th.  What is that you ask? Exciting plans are underway, and you won't want to miss it!  We are super excited to announce First United Bank will be hosting a Sponsor Watch Party at their beautiful new building. Due to safety precautions, we are reducing and limiting the number of guest reservations per sponsorship.  We are hopeful many supporters will hold watch parties of their own and invite family and friends.
If we can provide any additional information, please feel free to reach out to us at starfish@cfgcenter.org or 903-893-7768.
Click to see the WHY behind our Annual Starfish Benefit

Click to download sponsorship form if you prefer to mail it in with payment
---
Sponsor Levels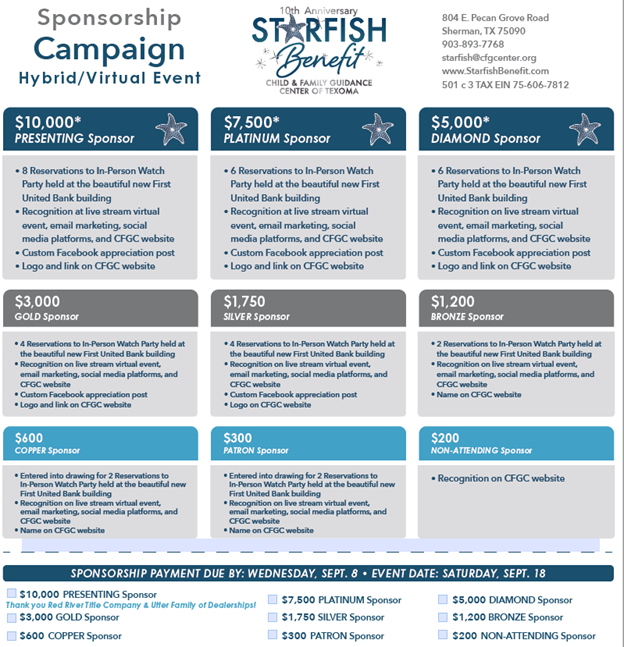 ---