---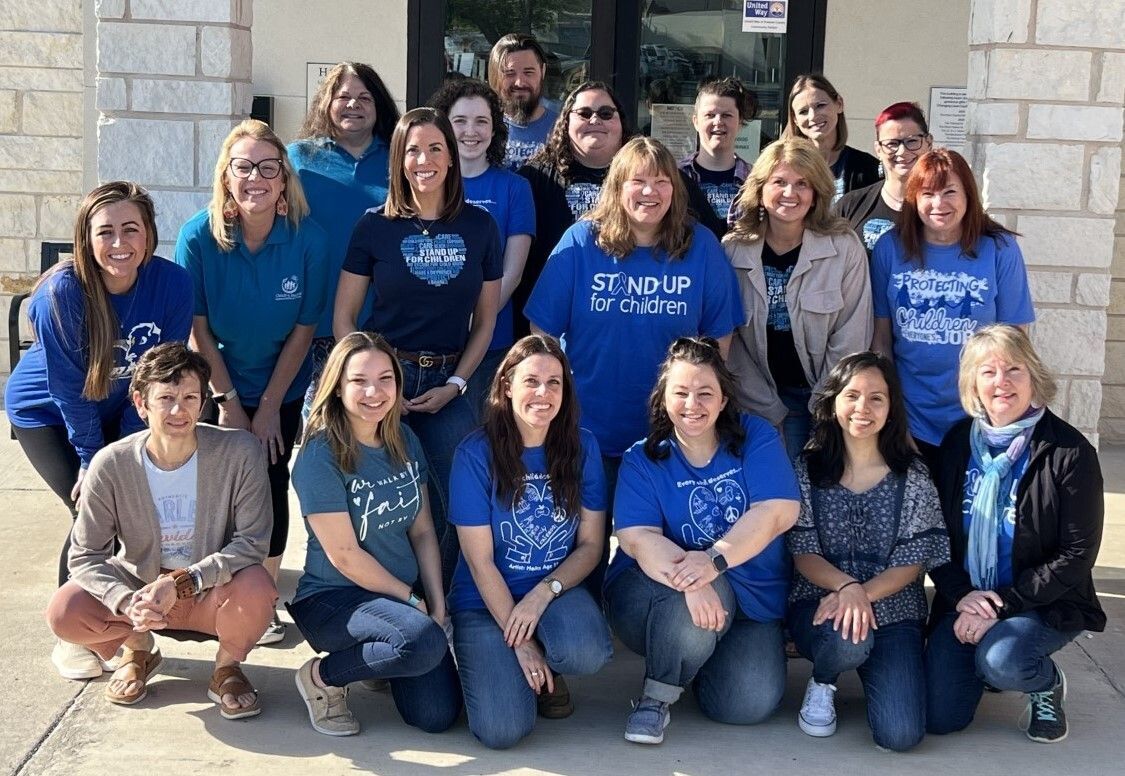 Leadership Team
Our highly experienced leadership team leads by example every day at CFGC championing a  culture that promotes excellence, team spirit and positive support, creative and innovative ideas, and ensuring the highest quality of care possible for each person served.
Brenda Hayward, MBA

Brenda Hayward, Executive Director

Brenda holds an MBA from Texas Woman's University and has been employed as the executive director of the Child & Family Guidance Center since 2002. She is passionate about the center's work that provides hope and healing for Texoma children and families. Brenda believes whole-heartedly that the trauma-informed-care model is the best practice framework for treatment of clients and care of staff.

Brenda specializes in nonprofit management, grant writing, fundraising, and community advocacy for mental health. She is a fierce advocate of advancing efforts to address the severe mental health professional workforce shortage in our region and across Texas.  Brenda manages a staff of 20 plus employees, oversees agency operations, works closely with an active board of directors and serves on the board of the Texoma Behavioral Health Leadership Team (TBHLT).  She loves to "Fun-Raise" for the cause, which to her means giving community members an opportunity to join other passionate people to support and further the critically important work of CFGC.

Brenda has been married 37 years to the love of her life, Scott. They have two grown sons, beautiful daughters-in-law, and three precious grandchildren. Brenda loves to take long walks, read, practice yoga and meditation, spend time with family, friends and her two adorable yorkies.

 

Jessica Hamilton, CPPM

Jessica Hamilton, Office Manager

Jessica Hamilton has been the Office Manager at Child & Family Guidance Center since 2006. Jessica received her training and education in Office Management and Insurance billing through Parker University, AAPC and American Medical Billing Association. She leads the administrative team to ensure that trauma-informed, quality care is being provided to clients when they are scheduling their appointments and discussing financial matters. With having over 23 years of experience with office management, insurance credentialing and contracting, she oversees insurance and patient billing and she understands the importance of educating clients on their insurance coverage and payment options. She enjoys being able to use her skills to increase funds for CFGC because it makes it possible for low income individuals to have access to care.  She is also a Certified Physician Practice Manager, Texas Notary Public and is certified in Mental Health First Aid.

Jessica loves spending time with her four amazing daughters (two of which are grown) in her spare time.  She also loves traveling, listening to music, reading, cooking and running. 

Loren Hervey, LPC-S

Loren Hervey, LPC-S

Loren has been a Licensed Professional Counselor in Texas since 2012 and has been a Licensed Supervisor since 2014. She received her BA in Psychology from Texas A&M University in 2008 and received her MS in Counseling Psychology from the University of North Texas in 2010.

Loren has previously served in Clinical Director roles overseeing Children and Adolescent Mental Health Programs and Crisis Agencies. She specializes in supervision, program oversight, crisis management, and working with individuals struggling with mood disorders, anxiety, substance use, domestic violence, suicidal ideation/behavior, non-suicidal self-injury and trauma. Loren views her role as an LPC Supervisor and as a Clinical Director as important work towards empowering the next generation of counselors to feel confident providing ethical and quality care to clients. She believes in the principles of trauma informed care and that recovery is possible regardless of difficult circumstances.

Loren loves to spend time with her two children and her family during her time off. She also enjoys going to the lake, exercising, reading, and exploring new places.
---
Administrative/Clinical Support Team
Amber Welch

Administrative/Billing Assistant

Jeanne Evans

Lead Administrative Assistant
---
Clinical Team
Our caring and compassionate, trauma informed clinical team holds a variety of advanced degrees in psychology, social work, family studies, and licensed professional therapy.
Rachel Carey, LPC

Rachel Carey is a Licensed Professional Counselor (LPC) licensed in the state of Texas. Rachel is employed as a full-time staff therapist and began her journey with CFGC as a practicum student in 2013. Rachel holds a Master of Science degree from the Texas Woman's University. She loves incorporating art and activities in therapy. Rachel has received training in TF-CBT, Trauma Informed Care, and ARC. Rachel loves spending time with her family and attending sporting events in her free time.

Barbara Ellis, LPC-Associate

Barbara Ellis began her journey with CFGC in January of 2021 as a Practicum student.  Barbara holds a Master of Science degree in Clinical Mental Health Counseling from Texas Tech University Health Sciences Center.  Barbara currently works with parents, adults, and the elderly population but is learning to provide play therapy. In her spare time, Barbara enjoys crocheting, spending time outdoors, hunting arrowheads and fossils, and playing with her cats and dog. 

Danielle Farrington, Field Experience Intern

Ashley Hinson, LPC-S

Ashley Hinson is a Licensed Professional Counselor Supervisor licensed in the state of Texas. Ashley is employed as a full-time staff therapist and has been with CFGC since September 2020. Ashley holds a Masters Degree in Marriage and Family Therapy from Abilene Christian University. She received extensive training in Family Therapy, Couples Therapy, and Play Therapy. She specializes in working with adolescents, children, and families. Ashley enjoys playing music and traveling with her husband and children. She also enjoys being outdoors, in bodies of water, and/or in bed napping.  

John Howard, LPC

John Howard is a Licensed Professional Counselor.  John was last with CFGC from 2014-2016 and has decided to return to the Center in May 2023. He got his bachelor's in psychology from UNT Dallas and Master of Arts in Clinical Psychology from Southeastern Oklahoma State University. John has been an LPC for 7 years and is certified in Trauma Informed Care.  In his spare time, he likes to run and bike on trails and the road, enjoys music, art and learning to play the guitar.  He is also a dad to two crazy cats.

Rebekah Irick, Case Manager

Jacob Lucas, LPC-Associate

Jacob comes to CFGC from Texas A&M Commerce master's program in counseling. He just started his 3000 hours and we hope he is with CFGC a good while. After receiving his full license, Jacob hopes to develop his own private practice where he would have the opportunity to engage clients in activities outside like going for walks, having some kind of "confidence course" playground, feeding/tending to animals (ideally fainting goats because that would be fun), or maybe even fishing.

In his free time, Jacob enjoys being outside. He likes going fishing or going to the lake to swim, sail or kayak. He also enjoys going on hikes and rock climbing. He plays a little guitar but only enough to impress your grandma.

Nicole Marcum, LCSW

Nicole is a Licensed Clinical Social Worker (LCSW), Staff Therapist, at Child & Family Guidance Center (CFGC).  Nicole holds a Bachelor of Social Work degree from Tarleton State University and Master of Science in Social Work from University of Texas at Arlington, she has more than 14 years of experience in various social work settings.  Nicole is a member in good standing with National Association of Social Workers (NASW) and Soldiers Angels.  She has a love for learning, actively writes book reviews published with NASW and stays engaged within the Texoma Community service agencies.  Nicole embraces self-discovery & professional growth, she enjoys backroad journeys on her Harley Davidson, quality time with her husband, family and friends.

Sydney McDaniel, Field Experience Intern

Karlie Niehus, LPC

Karlie Niehus is a Licensed Professional Counselor- in Texas and is employed as a full-time Staff Therapist. She began her work with CFGC in October 2020. Karlie holds a Master of Education degree from Oklahoma City University. Karlie has received training in CBT and Trauma Informed Care. In her spare time, she enjoys reading, listening to music, and going to see plays and musicals with friends/family.

Kiara Reyes, Field Experience Intern

Sarah Teschendorf, Field Experience Intern

Kelsey Ticer, LPC

Kelsey Ticer is a Licensed Professional Counselor (LPC) licensed in the state of Texas. Kelsey is employed as a Staff Therapist and has been with CFGC since 2018. Kelsey holds a Master of Arts degree from the Stephen F. Austin State University. She is highly effective with clients of all ages and with a wide array of struggles. Kelsey has received training in TF-CBT, Trauma Informed Care, and ARC. Kelsey enjoys curling up with a good book and reading in her spare time.

John Trader, LPC-S

John Trader is a Licensed Professional Counselor Supervisor (LPC-S) licensed in the state of Texas. John is employed as a full-time staff therapist and has been with CFGC since 2013. John holds a Master of Science degree from Texas A&M University-Commerce. He specializes in the treatment of individuals in the LGBTQ community. John has received training in TF-CBT, Trauma Informed Care, and ARC. John is passionate about staying up to date on the latest research. John loves Stars Wars and reading comic books in his free time.

Allie Steward, LPC-Associate

Staff Therapist, LPC Associate

Kristy Lane, Field Experience Intern
---
Those who choose to have a career helping others heal are true gifts from God!
---
What Children Want...Is Your Time

I tried to teach my child with books
He gave me only puzzled looks

I tried to teach my child with words
They passed him by, often unheard
Despairingly I turned aside
"How shall I teach this child," I cried

Into my hands he put the key
"Come," he said, "Play with me!"
                             -Anonymous