Compassionate Support Today!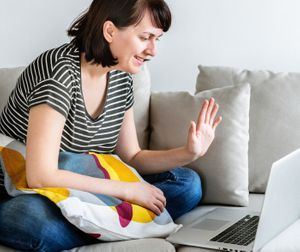 The Child and Family Guidance Center of Texoma understands that as a result of the COVID-19 pandemic, additional support to cope and navigate through this difficult time is needed now.
Although the impacts of the COVID-19 pandemic can vary among individuals, increased anxiety, depression, and social isolation are a few of the potential impacts that can disrupt go-to coping skills, daily routines, and overall mental and emotional well-being. 
In order to best meet the needs of our community, a FREE TeleSupport Program has been launched! Anyone in need can connect to a qualified individual quickly for brief, confidential and compassionate support via phone call or video chat. The TeleSupport Program is designed as a quick way to connect to help individuals process the impacts of the pandemic, obtain community resources, learn emotional regulation and coping skills, and provide parenting tips and resources. It's a way to access a caring voice in your time of need.
IMPORTANT: The TeleSupport Program is a support line. It is not a crisis hotline or a replacement for counseling services. If you are experiencing a mental health emergency, call 911 or go to your local emergency room. If you are seeking counseling services, please fill out our appointment request form.
---
TeleSupport Response Hours:
Monday-Thursday: 8am-6pm
Friday: 10am-4pm
 To request a TeleSupport appointment, please fill out the form below or email telesupport@cfgcenter.org.
---